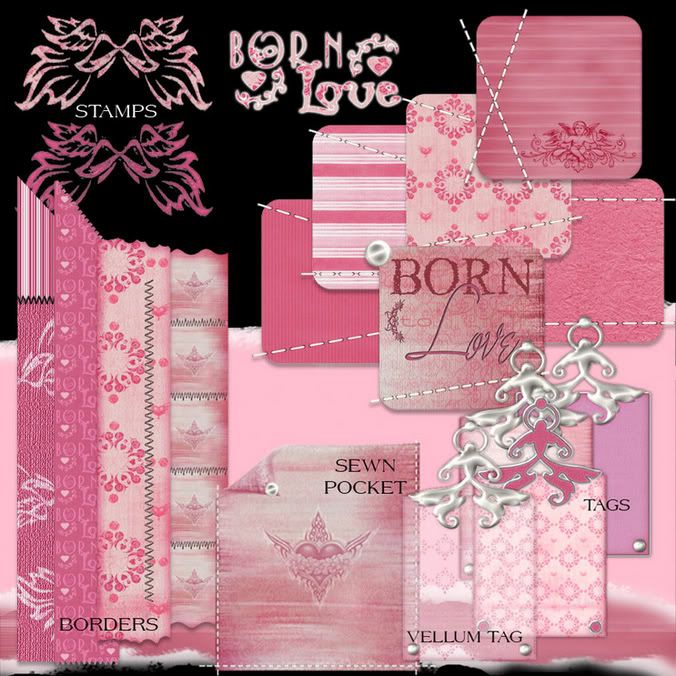 Happy Monday Friends!
I am sicker than a dog....I have the flu and I sound like a "Honker" as my DH put it this morning! But I wanted to leave you a quick post with my new kit....
Born to Love
http://www.threescrapateers.com/store/index.php?main_page=product_info&products_id=1261
I am a rebel...born to Love...kissed by an angel from up above! "Born to Love" is a motorcyle and tatoo inspired masterpiece....with a TWIST - a soft PINK PINK PINK Color palette! Loving warm textures fill this kit to the brim...complete with sassy hearts, sweet angel wings & pretty florals combined with the cool silvery metals make this a MUST HAVE Digi Kit for the Season of Love! Perfect for Weddings, Valentine's Day, Little Girls, Big Girls...Layouts of Love...you will be one rebel that won't be left without a cause!
Kit Includes:
12 - 12x12 Textured Background Papers
2 - Angel Wing Stamps
1 - Embellished Curved Border
3 - Link Bracelets for Charms
2 - Metal Brads
2 - Floral Brads
1 - Metal Button
4 - Charms
2 - Clips
1 - Metal Embellishment
1 - Jumpring
6 - Paper Accent Patch Squares
1 - Pocket
3 - Ribbons
1 - Staple
4 - Fancy Tags
2 - Torn Paper Scraps
2 - Word Art
Have a wonderful day....pass along a random act of kindness today....you were born to LOVE!